Created by Community Integrated Care, www.What-To-Do.co.uk was designed to give people who access care and support a range of brilliant, interactive, and engaging online activity sessions every day.
We believe that everyone should have the opportunity to learn, discover new skills, have fun, and connect with others. This is at the heart of "What To Do!"
Here's this week's Timetable:
Monday – Yoga for Beginners
Time: 5:30pm
Perfect for those seeking a place to unwind, our free beginner's yoga class is a fantastic way to kick off your week. Reduce your worries, breathe better, and find comfort in stretching!
No experience is needed!
Tuesday – Chef's Cook-Along – We're making pork souvlaki!
Time: 12:30pm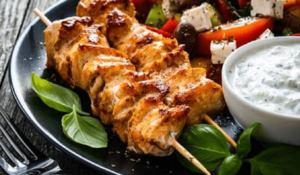 Souvlaki is a popular Greek fast food consisting of small pieces of meat and sometimes vegetables grilled on a skewer!
Learn how to cook a simple, delicious dish, step by step and try new recipes from around the world! A rewarding class that encourages independence, this session is accessible to all.
Wednesday – Lets Dance – This week its hits from the 2000's!
Time: 11am
Feel the rhythm and the beat with our brilliant Dance class. Learn lots of fun, easy and accessible dance routine and moves with the Leeds Rhinos Foundation Dance Tutor, Nicola.
Thursday – Chair based exercise
Time: 11am
Exercise is for everyone! Improve your health and hit your fitness goals. Get active in our low intensity class. This session is accessible to all.
Friday – Fitness and Fun – Be a Rugby League STAR!
Time: 2pm
Learn the basics of Rugby League with the Leeds Rhinos Foundation. Improve your hand to eye coordination and catching technique.
You don't need a ball or any experience to take part! This session is accessible to all.
Saturday – Disco
Time: 6pm
Get ready to dance the night away with our amazing virtual disco party. Hosted by the legendary DJ Ged, the tunes change every week! Remember to request your favourites and to say hello to friends across the country!
A bit more about What To Do!
What To Do was designed to help the people we support to stay fit and active, whilst also tackling isolation and loneliness. Through fun, educational, and virtual activities hosted Monday – Saturday, we're ensuring that people have incredible opportunities to learn, have fun and get social.
Post your photos on Yammer!
We love to see you having fun and joining in the sessions! Remember to post photos on Yammer and hashtag #WhatToDo! Stay tuned throughout the year for competitions where you can win fantastic prizes!